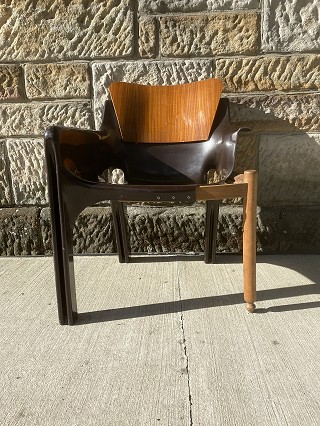 20 July 2020
How many of us have a favourite chair? Is there such a thing as a perfect chair? We've all seen chairs outside the mechanics workshop or local general store, beloved and well used by its' owner, created from an old crate, or adapted with masking tape or other found materials to make it "just right".
The chair in this picture is by Martino Gamper, renowned artist/designer based in London. He famously created 100 chairs from parts of abandoned chairs or from those given him by friends. They were exhibited around the world from 2006 in "100 chairs in 100 days and its 100 ways". He took elements of design and function from different chairs, mixed highbrow with the commonplace, plastic with timber, modern with traditional to produce a new chair, not always so"beautiful", but functional and individual, As Martino Gamper said, "there is no perfect design, there is no"uber design", chairs talk to us personally."
The chair presented here in this image, combines parts of a traditional French farmhouse chair with one by David Rowlands and a Vico Magistretti Gaudi chair which originally came from the original version of my shop "506070" when it was in Annandale. It was produced by Martino Gamper in a visit to Sydney around 2007.
Social Share: